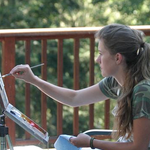 Avery L. Hanson
Avery Hanson's style of art has been described by many as "Whimsical-Realism", Avery's style of work can be credited to her studies at the acclaimed Student Art League of New York and her array of teachers such as Mike Wimmer, Don Longcrier, Gene Costanza, Sammy Wolohon & Kandy Radzinski. Avery's love of art has taken her around the globe from Greece, Paris, Oregon, San Francisco and New York. In 2011 Avery moved to New York in pursuit of her art career. While painting, drawing and living in New York Avery interned at the Metropolitan Museum of Art. Before moving back to her roots to establish her art career in the great plains of Oklahoma. Since 2011, Avery has focused primarily on commission pieces and observational street sketches. Currently Avery lives in Oklahoma City and is working towards her B.F.A in Studio Arts from Oklahoma City University, where she continues to create and design new works of art daily. http://whimsicalartist.wix.com/averyhanson https://society6.com/averyhanson/photographs?promo=VRP9V39D382N Avery L. Hanson joined Society6 on April 10, 2015
More
  Avery Hanson's style of art has been described by many as "Whimsical-Realism", Avery's style of work can be credited to her studies at the acclaimed Student Art League of New York and her array of teachers such as Mike Wimmer, Don Longcrier, Gene Costanza, Sammy Wolohon & Kandy Radzinski.

  Avery's love of art has taken her around the globe from Greece, Paris, Oregon, San Francisco and New York. In 2011 Avery moved to New York in pursuit of her art career. While painting, drawing and living in New York Avery interned at the Metropolitan Museum of Art. Before moving back to her roots to establish her art career in the great plains of Oklahoma. Since 2011, Avery has focused primarily on commission pieces and observational street sketches. Currently Avery lives in Oklahoma City and is working towards her B.F.A in Studio Arts from Oklahoma City University, where she continues to create and design new works of art daily.

http://whimsicalartist.wix.com/averyhanson
https://society6.com/averyhanson/photographs?promo=VRP9V39D382N
Avery L. Hanson joined Society6 on April 10, 2015.
Avery L. Hanson's Store
6 result
Filter