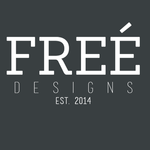 FREE Designs
FREE is an independent design brand hosted by SOCIETY6. Hours are spent behind the ideas, concepts, and execution of our work. Aware of the current fashion market, FREE insures you will get the trendiest clothing - your friends will be BEGGING to know where you got it. BE BOLD. BE WILD. BE FREE. FREE Designs joined Society6 on April 8, 2013
More
FREE is an independent design brand hosted by SOCIETY6. Hours are spent behind the ideas, concepts, and execution of our work. Aware of the current fashion market, FREE insures you will get the trendiest clothing - your friends will be BEGGING to know where you got it.
BE BOLD. BE WILD. BE FREE.
FREE Designs joined Society6 on April 8, 2013.