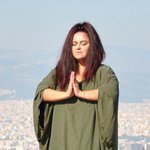 Azima
Hello from Athens Greece! We are Azima * Dimitris * Elisavet! Elisavet is our daughter and we start with hers own hand made paintings, she is almost 7 years but she is painting from 3 years old! Love Life Laugh and "vitamin sea" from Greece! For Updates, Follow me on: My website - http://www.azima.gr Twitter - @https://twitter.com/azima_new_age Instagram - https://www.instagram.com/azimagr/ Pinterest - https://gr.pinterest.com/azimanewage/ Google Plus - https://plus.google.com/+AzimaNirdosh Mailing list signup: info@azima.gr Azima joined Society6 on February 15, 2016
More
Hello from Athens Greece! We are Azima * Dimitris * Elisavet! Elisavet is our daughter and we start with hers own hand made paintings, she is almost 7 years but she is painting from 3 years old! Love Life Laugh and "vitamin sea" from Greece!
For Updates, Follow me on: My website - http://www.azima.gr Twitter - @https://twitter.com/azima_new_age Instagram - https://www.instagram.com/azimagr/ Pinterest - https://gr.pinterest.com/azimanewage/ Google Plus - https://plus.google.com/+AzimaNirdosh Mailing list signup: info@azima.gr
Azima joined Society6 on February 15, 2016.