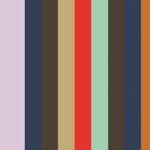 Chromatext
Chromatext (c) is a visual language. Each pattern spells a word. I'm Leora Lutz. I have been making art since the early '90s. Find out more about my work at leoralutz_dot_com. Thank you for your support!
Read more
Chromatext 's Store
Filter
fc5e6dcb-814d-494b-9b1a-acea4875dcfa

Random

bad2565e-f79a-41ad-9caf-b2c3d4d8bc66

Wall Art
You are currently on society6.com.