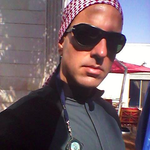 Bader AlBahiti
The Quran is an ocean. Contrary to popular understanding, the book is not translatable. It can only be interpreted by Arabic speakers and those interpretations can be translated. Find here translations from my interpretations. They are pearls from the great ocean of wisdom known as the Quran. ----- For more on my philosophy : http://www.baderalbahiti.com/#!philosophy/c66t Bader AlBahiti joined Society6 on March 26, 2014
More
The Quran is an ocean. Contrary to popular understanding, the book is not translatable. It can only be interpreted by Arabic speakers and those interpretations can be translated.
Find here translations from my interpretations. They are pearls from the great ocean of wisdom known as the Quran.
---
For more on my philosophy : http://www.baderalbahiti.com/#!philosophy/c66t
Bader AlBahiti joined Society6 on March 26, 2014.