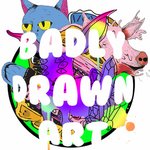 Badly Drawn Art
Badly Drawn Art specializes in lowbrow and pop-surrealism art. All art is drawn by Darrin with pen, ink, watercolor and pencil and then digitalized for production. Darrin uses play-on-words and pop culture references in his art as well as vibrant colors and bold lines. Some art has meaning and some have none. Find me on Instagram: @bassancyskate Badly Drawn Art joined Society6 on January 23, 2016
More
Badly Drawn Art specializes in lowbrow and pop-surrealism art. All art is drawn by Darrin with pen, ink, watercolor and pencil and then digitalized for production. Darrin uses play-on-words and pop culture references in his art as well as vibrant colors and bold lines. Some art has meaning and some have none.
Find me on Instagram: @bassancyskate
Badly Drawn Art joined Society6 on January 23, 2016.
Badly Drawn Art's Store
16 results
Filter