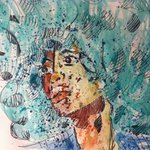 bad portraits
Mandy Stobo, an artist based out of Calgary, AB began the Bad Portrait Project as a labour of love. She has an intense love of her hometown, Calgary, and all the people who inhabit it. She decided to start painting all these lovely people's faces in a pretty rad & bad way. In July of 2013, Mandy's hometown of Calgary was hit with a flood that was the most devastating and costly natural disaster to ever hit the province of Alberta. Out of this devastation rose a community ready to help, ready to love and ready to rise above. This sparked an idea in Mandy's head, "let's take a bad portrait of our incredible (superhero) Mayor Naheed Nenshi, throw a snorkel mask on him and sell tank tops & t-shirts with this on them, with ALL the proceeds going to charity." #ScubaNenshi was born and raised $20,000.00 to support Calgarians in need. To commemorate the 1-year anniversary of the Alberta Floods, we're unveiling the new #snorkelcity artwork. There were hundreds and thousands of people who threw on their #scubanenshi "snorkels" and helped so many families and people who were devastated by the flood. Let's come together again and show that we don't forget just because time has passed. Like good ol' Nenshi said, "we got through this together. It's who we are, it's what we do." bad portraits joined Society6 on June 20, 2014
More
Mandy Stobo, an artist based out of Calgary, AB began the Bad Portrait Project as a labour of love. She has an intense love of her hometown, Calgary, and all the people who inhabit it. She decided to start painting all these lovely people's faces in a pretty rad & bad way.
In July of 2013, Mandy's hometown of Calgary was hit with a flood that was the most devastating and costly natural disaster to ever hit the province of Alberta. Out of this devastation rose a community ready to help, ready to love and ready to rise above. This sparked an idea in Mandy's head, "let's take a bad portrait of our incredible (superhero) Mayor Naheed Nenshi, throw a snorkel mask on him and sell tank tops & t-shirts with this on them, with ALL the proceeds going to charity." #ScubaNenshi was born and raised $20,000.00 to support Calgarians in need.
To commemorate the 1-year anniversary of the Alberta Floods, we're unveiling the new #snorkelcity artwork. There were hundreds and thousands of people who threw on their #scubanenshi "snorkels" and helped so many families and people who were devastated by the flood. Let's come together again and show that we don't forget just because time has passed. Like good ol' Nenshi said, "we got through this together. It's who we are, it's what we do."
bad portraits joined Society6 on June 20, 2014.