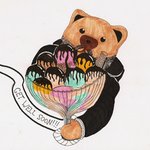 Bake
Name's Michael Khvonasky. I'm a bear from cold russian forest. links to contact Deviant - http://mikebakie.deviantart.com/ Facebook - http://www.facebook.com/mihail.hovanskij Vkontake - http://vkontakte.ru/id1205938 Skype - Bakery. (don't forget the dot at the end) I'll be glad to see you.or hear you oh..yeeah and mail darkbear040789@rambler.ru and don't forget to join me on Google+ , i have only one friend on Google+ need moooore https://plus.google.com/113225380954360696958/posts?hl=ru Bake joined Society6 on October 25, 2011
More
Name's Michael Khvonasky.
I'm a bear from cold russian forest.
links to contact
Deviant - http://mikebakie.deviantart.com/
Facebook - http://www.facebook.com/mihail.hovanskij
Vkontake - http://vkontakte.ru/id1205938
Skype - Bakery. (don't forget the dot at the end)
I'll be glad to see you.or hear you
oh..yeeah and mail
darkbear040789@rambler.ru
and don't forget to join me on Google+ , i have only one friend on Google+ need moooore
https://plus.google.com/113225380954360696958/posts?hl=ru
Bake joined Society6 on October 25, 2011.