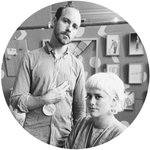 Baker & Bailey
Renee Anne & Jonathon Bailey are collaborating for the first time, creating a range of products from art prints to jewellery to wooden magnet boards. While the products have been developed individually by either Renee or Jonathon, the creating has happened in their shared Melbourne studio, allowing for an inspiring and encouraging collaboration to occur. Baker & Bailey has become an outlet for the pair to explore new avenues of art making and product design. Located in Melbourne, Australia. Baker & Bailey joined Society6 on March 29, 2014
More
Renee Anne & Jonathon Bailey are collaborating for the first time, creating a range of products from art prints to jewellery to wooden magnet boards.
While the products have been developed individually by either Renee or Jonathon, the creating has happened in their shared Melbourne studio, allowing for an inspiring and encouraging collaboration to occur.
Baker & Bailey has become an outlet for the pair to explore new avenues of art making and product design.
Located in Melbourne, Australia.
Baker & Bailey joined Society6 on March 29, 2014.