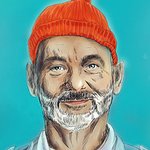 Balazs Pakozdi
/// Balazs Pakozdi is a Hungarian digital artist and concept artist based in Worcester, United Kingdom. He studied graphic design & multimedia with an emphasis on drawing and painting. He is also a self taught illustrator who works in digital media. His aim is to create dynamic and visually attractive portraits that immediately draw the viewers' attention. Balazs is currently working on several British and American low budget film projects as a concept artist, poster and title designer. /// PORTFOLIO: http://cargocollective.com/balazspakozdi Twitter: https://twitter.com/ Facebook fanpage: http://www.facebook.com/BPakozdi?ref=hl Imdb: http://www.imdb.com/name/nm5705729/reference Balazs Pakozdi joined Society6 on January 28, 2012
More
/// Balazs Pakozdi is a Hungarian digital artist and concept artist based in Worcester, United Kingdom. He studied graphic design & multimedia with an emphasis on drawing and painting.
He is also a self taught illustrator who works in digital media. His aim is to create dynamic and visually attractive portraits that immediately draw the viewers' attention.
Balazs is currently working on several British and American low budget film projects as a concept artist, poster and title designer.
///
PORTFOLIO: http://cargocollective.com/balazspakozdi Twitter: https://twitter.com/ Facebook fanpage: http://www.facebook.com/BPakozdi?ref=hl Imdb: http://www.imdb.com/name/nm5705729/reference
Balazs Pakozdi joined Society6 on January 28, 2012.