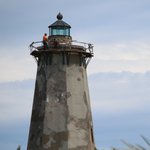 Bald Head Island Life
A Bald Head Island fan and frequenter for over 30 years, Katharine Hesmer has been fascinated with photography for as long as she can remember, and is excited to have recently added a drone to her visual toy chest.
While her images are directly relatable to visitors and residents of Bald Head, they also speak to a wider audience of anyone who recognizes the beauty and cathartic nature of beach imagery. Many of her subjects involve pattern, texture, and color, or some combination of all three. She is particularly fond of experimenting with composition and vantage points that force her, as well as the viewer, to experience scenes from new perspectives, which probably explains her current obsession with her drone. This amazing piece of equipment opens up an entirely new visual world, and the best part about it is that you have no idea what you'll see until you take off and look around. The possibilities are endless, much like her determination to keep experimenting.
Be sure and follow Katharine's "Bald Head Island Life" accounts on Instagram and Facebook. Thank you so much for your support.
Read more