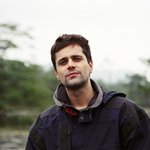 klausbalzano
Klaus Balzano is a landscape/nature/portrait and fashion models freelancer-photographer based in Sao Paulo (Brazil) and also in Buenos Aires (Argentina). The artist sells some photos in stock websites and soon will create a personal website to offer his art. Contact and info: klausbalzano@gmail.com Phone: +55 11 9 5602-5632 Current local: Sao Paulo, Brazil klausbalzano joined Society6 on August 14, 2013
More
Klaus Balzano is a landscape/nature/portrait and fashion models freelancer-photographer based in Sao Paulo (Brazil) and also in Buenos Aires (Argentina). The artist sells some photos in stock websites and soon will create a personal website to offer his art.
Contact and info:
klausbalzano@gmail.com Phone: +55 11 9 5602-5632 Current local: Sao Paulo, Brazil
klausbalzano joined Society6 on August 14, 2013.