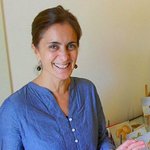 BarraganPaintings
I enjoy painting apparently insignificant things such as wildflowers picked on a morning walk, a local fruit right out of an orchard, or an Italian landscape especially at sunset when the colors warm up. I paint daily in the Umbrian countryside or in my studio. Thank you for stopping by. Visit my website: www.caridadbarragan.com/ or schedule a studio visit here: www.verni.io/caridadbarragan/galleries/482 FaceBook: www.facebook.com/CaridadIsabelBarragan Twitter: @caridadisabel BarraganPaintings joined Society6 on December 2, 2013
More
I enjoy painting apparently insignificant things such as wildflowers picked on a morning walk, a local fruit right out of an orchard, or an Italian landscape especially at sunset when the colors warm up.
I paint daily in the Umbrian countryside or in my studio. Thank you for stopping by. Visit my website: www.caridadbarragan.com/ or schedule a studio visit here: www.verni.io/caridadbarragan/galleries/482
FaceBook: www.facebook.com/CaridadIsabelBarragan
Twitter: @caridadisabel
BarraganPaintings joined Society6 on December 2, 2013.