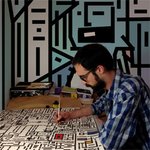 Barruf
Hi! I'm Cedric, born in Barcelona, who in 2012 after go across really surrealist experiences, I fall in love with art (specially with illustration and paint); come into the world this way Barruf: a selftaught artist with a quite particular vision of a world what he wants to share with all of you. Web page--> http://barruf.com Facebook page--> https://www.facebook.com/barruffoll Barruf joined Society6 on January 29, 2013
More
Hi! I'm Cedric, born in Barcelona, who in 2012 after go across really surrealist experiences, I fall in love with art (specially with illustration and paint); come into the world this way Barruf: a selftaught artist with a quite particular vision of a world what he wants to share with all of you.
Web page--> http://barruf.com Facebook page--> https://www.facebook.com/barruffoll
Barruf joined Society6 on January 29, 2013.