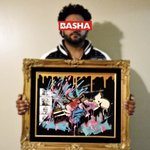 BASHA
Over the decades, graffiti art has generally been relegated to the streets in which it is expressed, but over the past few years that attitude has changed. Today, graffiti art has taken on a new prominence in the art community as well as mainstream society who are now recognizing graffiti artists for their bold, stunning work. I am one such artist, my name is BASHA. Born on December 18th, 1978 in Lahore, Pakistan. I spent a crucial part of my childhood in Edison, New Jersey. It's where I learned the most about life, art and the opposite sex. At the age of seventeen, my family moved to Salt Lake City and I began my career as a graffiti artist. Soon all my surroundings would emblazon my name "BASHA" which in Arabic means "King". I am a restless man with the drive, talent and confidence. My most celebrated work is the "Wild Style Wild" that exemplifies a combination of graffiti and abstract art forms. However, my current work "BASHA Meets Paris Green" may eclipse my past triumph. BASHA Meets Paris Green is part of a stunning new series of works that are the most expressive of the BASHA graffiti art collection. Bold in color, striking in design, these particular works of art features a sea of complex, monochromatic designs lying under a perfect Paris green sky as if it were the ocean undulating over the planet. WWW.BASHAWORLDWIDE.COM BASHA joined Society6 on February 7, 2014
More
Over the decades, graffiti art has generally been relegated to the streets in which it is expressed, but over the past few years that attitude has changed. Today, graffiti art has taken on a new prominence in the art community as well as mainstream society who are now recognizing graffiti artists for their bold, stunning work. I am one such artist, my name is BASHA.
Born on December 18th, 1978 in Lahore, Pakistan. I spent a crucial part of my childhood in Edison, New Jersey. It's where I learned the most about life, art and the opposite sex. At the age of seventeen, my family moved to Salt Lake City and I began my career as a graffiti artist. Soon all my surroundings would emblazon my name "BASHA" which in Arabic means "King".
I am a restless man with the drive, talent and confidence. My most celebrated work is the "Wild Style Wild" that exemplifies a combination of graffiti and abstract art forms. However, my current work "BASHA Meets Paris Green" may eclipse my past triumph. BASHA Meets Paris Green is part of a stunning new series of works that are the most expressive of the BASHA graffiti art collection. Bold in color, striking in design, these particular works of art features a sea of complex, monochromatic designs lying under a perfect Paris green sky as if it were the ocean undulating over the planet.
WWW.BASHAWORLDWIDE.COM
BASHA joined Society6 on February 7, 2014.