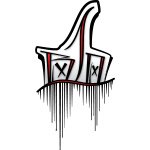 Basik1 Design
My name is Matt Merino. I am a Graphic Artist & Illustrator based out of Boulder, CO. I have a true passion for all things art and design. Traditionally trained in Advertising from the University of Colorado's School of Journalism and Mass Communication. I take pride in my artistic abilities both on and off the computer. Please feel free to contact me with any questions or inquiries. Thanks! Basik1 Design joined Society6 on April 16, 2013
More
My name is Matt Merino. I am a Graphic Artist & Illustrator based out of Boulder, CO. I have a true passion for all things art and design. Traditionally trained in Advertising from the University of Colorado's School of Journalism and Mass Communication. I take pride in my artistic abilities both on and off the computer.
Please feel free to contact me with any questions or inquiries. Thanks!
Basik1 Design joined Society6 on April 16, 2013.