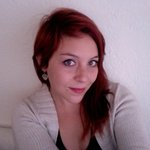 bastienbell
Bastien Bell represents the artwork of the multifaceted graphic, web designer, hand lettering, and art of India Bastien. India is inspired by vintage photos, pin up, dance, circus arts, colors, music and her surroundings. India currently lives in Mexico in a world heritage site, the small town of San Miguel de Allende, an artists heaven of culture and color . She is intrigued by the idea that style can be conveyed thru art. India uses several mediums and challenges herself to use new ones every day. From pencil drawings, watercolor, acrylic, photography, chalk and graphic design she hopes to inspire others with her cross cultural background to convey messages of art and culture. Half American - Half Mexican 'Mexigringa' as she calls it, her bilingual world is also a big influence in her art. Enjoy! India was born and raised in San Miguel de Allende, Guanajuato, Mexico. She spent many years traveling and found herself living in places like Prague, Czech Republic and Mexico City. She is currently the director and founder of a Fashion Festival called Art 2 Wear, a fashion festival that gives a platform for designers and artists from all over the world. Say hello to her at: india.bastien@gmail.com bastienbell joined Society6 on August 20, 2013
More
Bastien Bell represents the artwork of the multifaceted graphic, web designer, hand lettering, and art of India Bastien.
India is inspired by vintage photos, pin up, dance, circus arts, colors, music and her surroundings. India currently lives in Mexico in a world heritage site, the small town of San Miguel de Allende, an artists heaven of culture and color . She is intrigued by the idea that style can be conveyed thru art. India uses several mediums and challenges herself to use new ones every day. From pencil drawings, watercolor, acrylic, photography, chalk and graphic design she hopes to inspire others with her cross cultural background to convey messages of art and culture. Half American - Half Mexican 'Mexigringa' as she calls it, her bilingual world is also a big influence in her art. Enjoy!
India was born and raised in San Miguel de Allende, Guanajuato, Mexico. She spent many years traveling and found herself living in places like Prague, Czech Republic and Mexico City. She is currently the director and founder of a Fashion Festival called Art 2 Wear, a fashion festival that gives a platform for designers and artists from all over the world.
Say hello to her at: india.bastien@gmail.com
bastienbell joined Society6 on August 20, 2013.