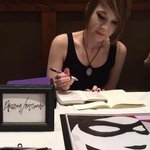 BatSpats
Http://www.batspats.com https://www.facebook.com/BatSpatsArt https://www.etsy.com/shop/BatSpats http://www.redbubble.com/people/hispurplegloves Description Crazy, caffeinated, crafting cat lady by day; super villain by night. Michelle has been passionate about art since...well, forever. She did graphic design for the successful Kickstarter campaign that funded Revolver The Movie. Her work can also be seen on various websites and book covers. As a rabid comic book fan and con-goer, she loves working with geeky subject matter, while favoring digital, minimalist media. Michelle lives in St. Louis and has two cats that love to lay in the middle of whatever she is currently working on. --- I specialize in, but am certainly not limited to: Graphic Design: Posters, website banners, avatars, t-shirts, and postcards. Papercrafting: Cardmaking, invitations, scrapbooking Traditional Art: Super ultra cute doodles and cat portraits --- Reviews/Testimonials: "Michelle created the banner for my website, www.dominateyourdream.com, and was amazing to work with! I have zero visual skills so couldn't even articulate what I wanted it to look like. After talking about it for a little while and her bouncing ideas off me, she created the perfect, amazing, gorgeous banner you see there now! She's a sweetheart to work with, and super talented and creative. I will definitely work with her again in the future for any graphic design work I need! And one more thing - I also have the Gotham City Sirens mug from her Society6 store, and it's become one of my favorite mugs from which to drink coffee to fuel my late-night creative endeavors!" -Jen Sights, Founder of Dominate Your Dream "Michelle Benz has the unique ability to create a mood through her graphic design that will captivate and intrigue all who see it. Her style and independent edge give her designs life. She crafted our successful Kickstarter film campaign seen all over the world in a way that can only be described as genius. Michelle Benz weaves worlds with pictures and text - her design is legendary. Work with her." -Veronica Varlow [A few of my favorite things: Coffee. Cats. Bats. Magick. Glitter. Lipstick. Straightjackets. Lunar cycles. Wheelchairs. Spoons. Knives/Switchblades. Oil paint. Craft supplies. Dirty bathroom floors. Hearses. Carnival lights. Haunted Houses. Ghost stories.] BatSpats joined Society6 on December 22, 2013
More
Http://www.batspats.com https://www.facebook.com/BatSpatsArt https://www.etsy.com/shop/BatSpats http://www.redbubble.com/people/hispurplegloves
Description Crazy, caffeinated, crafting cat lady by day; super villain by night.
Michelle has been passionate about art since...well, forever. She did graphic design for the successful Kickstarter campaign that funded Revolver The Movie. Her work can also be seen on various websites and book covers. As a rabid comic book fan and con-goer, she loves working with geeky subject matter, while favoring digital, minimalist media. Michelle lives in St. Louis and has two cats that love to lay in the middle of whatever she is currently working on.
---
I specialize in, but am certainly not limited to: Graphic Design: Posters, website banners, avatars, t-shirts, and postcards.
Papercrafting: Cardmaking, invitations, scrapbooking
Traditional Art: Super ultra cute doodles and cat portraits
---
Reviews/Testimonials:
"Michelle created the banner for my website, www.dominateyourdream.com, and was amazing to work with! I have zero visual skills so couldn't even articulate what I wanted it to look like. After talking about it for a little while and her bouncing ideas off me, she created the perfect, amazing, gorgeous banner you see there now! She's a sweetheart to work with, and super talented and creative. I will definitely work with her again in the future for any graphic design work I need! And one more thing - I also have the Gotham City Sirens mug from her Society6 store, and it's become one of my favorite mugs from which to drink coffee to fuel my late-night creative endeavors!" -Jen Sights, Founder of Dominate Your Dream
"Michelle Benz has the unique ability to create a mood through her graphic design that will captivate and intrigue all who see it. Her style and independent edge give her designs life. She crafted our successful Kickstarter film campaign seen all over the world in a way that can only be described as genius. Michelle Benz weaves worlds with pictures and text - her design is legendary. Work with her." -Veronica Varlow
[A few of my favorite things: Coffee. Cats. Bats. Magick. Glitter. Lipstick. Straightjackets. Lunar cycles. Wheelchairs. Spoons. Knives/Switchblades. Oil paint. Craft supplies. Dirty bathroom floors. Hearses. Carnival lights. Haunted Houses. Ghost stories.]
BatSpats joined Society6 on December 22, 2013.