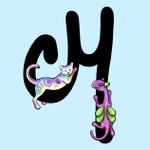 BatyaAidan
Creating art has been a passion of mine since I was a child, and it thrills me to be able to see completed pieces go out into the world and be enjoyed by others.
I work in a smoke free home with 3 cuddly cats. When not working on art I spend lots of time reading, watching movies, playing Nintendo games, and baking vegan desserts to share with friends.
You can view more of my work at my blog.
carriemichael.blogspot.com/
Read more
BatyaAidan's Store
10 results
Filter