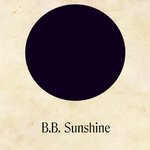 B.B. Sunshine
Mr. Sunshine is a strange man who spends most of his free time thinking, writing, painting, drinking whiskey, and listening to Radiohead. He chooses to remain anonymous for many reasons; the main one being that it makes him feel cooler than he actually is. You should visit his strange universe at bbsunshine.net B.B. Sunshine joined Society6 on July 12, 2015
More
Mr. Sunshine is a strange man who spends most of his free time thinking, writing, painting, drinking whiskey, and listening to Radiohead. He chooses to remain anonymous for many reasons; the main one being that it makes him feel cooler than he actually is.
You should visit his strange universe at bbsunshine.net
B.B. Sunshine joined Society6 on July 12, 2015.
B.B. Sunshine's Store
16 results
Filter