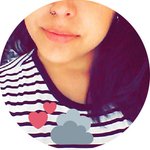 Bea Alamo
Beatriz "Bea" Alamo is from St. Augustine, FL, based in Seattle, WA. She received her B.F.A in Illustration with a minor in Creative Writing from Savannah College of Art & Design (SCAD) in Savannah, GA. While her finished products are primarily created with Photoshop & Illustrator, Bea always starts at the source, using pens & markers to create her whimsical, quirky characters & designs that exhibit swirls, bold lines, & bright colors. She feels a connection to characters that are out of the ordinary, the underdogs & sidekicks to the main protagonist, aiming to create stories that have the spotlight on the strange. She appreciates the unconventionally cute & bizarre, her major inspirations being cartoons from the 1990s, graphic novels & retro video games. She is available for most kinds of creative work, including writing & illustrating books for children & young adults, greeting cards, as well as designing for indie games & animations. Feel free to check out her professional website at www.beaalamo.com, as well as her instagram (@beaalamo) & behance (behance.net/beaaalamo)! Bea Alamo joined Society6 on March 25, 2015
More
Beatriz "Bea" Alamo is from St. Augustine, FL, based in Seattle, WA. She received her B.F.A in Illustration with a minor in Creative Writing from Savannah College of Art & Design (SCAD) in Savannah, GA.
While her finished products are primarily created with Photoshop & Illustrator, Bea always starts at the source, using pens & markers to create her whimsical, quirky characters & designs that exhibit swirls, bold lines, & bright colors. She feels a connection to characters that are out of the ordinary, the underdogs & sidekicks to the main protagonist, aiming to create stories that have the spotlight on the strange. She appreciates the unconventionally cute & bizarre, her major inspirations being cartoons from the 1990s, graphic novels & retro video games. She is available for most kinds of creative work, including writing & illustrating books for children & young adults, greeting cards, as well as designing for indie games & animations.
Feel free to check out her professional website at www.beaalamo.com, as well as her instagram (@beaalamo) & behance (behance.net/beaaalamo)!
Bea Alamo joined Society6 on March 25, 2015.