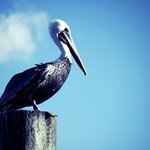 Beach Bum Chix
My love affair with the sea began at birth in Fort Lauderdale, Florida. My mom and aunt would take all us kids to the beach, find a shady spot under the pier, and set up the playpen. We'd dig in the sand or take a nap under a gauzy blanket cooled by a tropical breeze. Then extend the relaxation into the evening ... grilling dinner oceanside, squeezing every drop of light from the sun until it fell below the horizon at dusk. My goal with Beach Bum Chix is to convey the peace of life along the coast from the perspective of an authentic beach bum. I'm on a mission to help you bring salty aired serenity to life. Beach Bum Chix joined Society6 on July 14, 2011
More
My love affair with the sea began at birth in Fort Lauderdale, Florida. My mom and aunt would take all us kids to the beach, find a shady spot under the pier, and set up the playpen. We'd dig in the sand or take a nap under a gauzy blanket cooled by a tropical breeze. Then extend the relaxation into the evening ... grilling dinner oceanside, squeezing every drop of light from the sun until it fell below the horizon at dusk.
My goal with Beach Bum Chix is to convey the peace of life along the coast from the perspective of an authentic beach bum. I'm on a mission to help you bring salty aired serenity to life.
Beach Bum Chix joined Society6 on July 14, 2011.
Popular+phone-Skins by Beach Bum Chix
0 result
Filter