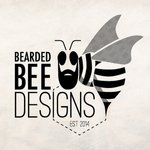 Bearded Bee Designs
Hello Everyone! In case you don't know by now my name is Brennan Scott, freelance graphic designer and creator of Bearded Bee Designs. This undertaking happened during the summer of 2014 and has been developing and changing ever since. Through this process I have had the ability to learn, grow, and better understand how to run a successful freelance business. I had always wanted to start a freelance graphic design business but I never had the courage and didn't think I had the ability. However, with the support of my friends and family I was able to launch my site, create a branding I was happy with, and start down the path of a freelance designer over the summer of 2014. I still have a lot to learn but everyday I get more confident and gain more knowledge to help me out along the way. I would love for you to be a part of this dream! If you want me to design something for you feel free to contact me or visit my website. Also if you have any requests or suggestions for my newest posters feel free to get in touch and let me know. Feel free to contact me at: brennanscott01@gmail.com Or find out more about Bearded Bee Designs at www.beardedbeedesigns.com Thank you for your support, Brennan Scott Freelance Graphic Designer Bearded Bee Designs Bearded Bee Designs joined Society6 on December 10, 2014
More
Hello Everyone!
In case you don't know by now my name is Brennan Scott, freelance graphic designer and creator of Bearded Bee Designs. This undertaking happened during the summer of 2014 and has been developing and changing ever since. Through this process I have had the ability to learn, grow, and better understand how to run a successful freelance business.
I had always wanted to start a freelance graphic design business but I never had the courage and didn't think I had the ability. However, with the support of my friends and family I was able to launch my site, create a branding I was happy with, and start down the path of a freelance designer over the summer of 2014. I still have a lot to learn but everyday I get more confident and gain more knowledge to help me out along the way.
I would love for you to be a part of this dream! If you want me to design something for you feel free to contact me or visit my website. Also if you have any requests or suggestions for my newest posters feel free to get in touch and let me know.
Feel free to contact me at: brennanscott01@gmail.com Or find out more about Bearded Bee Designs at www.beardedbeedesigns.com Thank you for your support, Brennan Scott Freelance Graphic Designer Bearded Bee Designs
Bearded Bee Designs joined Society6 on December 10, 2014.
Bearded Bee Designs's Store
90 results
Filter