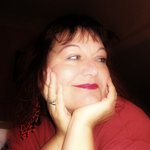 Beatrice Roberts
I have been painting, drawing and cutting paper since I was barely out of the pram! Art has been my life and I have a total passion for creativity. My interest is in all mid century design and you will see this influence in my artwork. Some artists and designers who inspire me include Joan Miro, Rex Ray, Chris Reccardi, Lucienne Day, Jacqueline Groag and Marian Mahler. My passion is collage first and foremost. There is nothing so wonderful, and satisfying as designing my own printed, splatted, frottaged and paint effected papers and then cutting then into shapes and placing them on a new background to make a brand new vibrant composition. Apart from all things Mid Century my other interests include; Antiques fairs, car boot sales, folk music, home decorating and knitting. I also play whistle, percussion, and dulcimer in a band, and I play for the local Morris Dancing team. Beatrice Roberts joined Society6 on December 7, 2012
More
I have been painting, drawing and cutting paper since I was barely out of the pram! Art has been my life and I have a total passion for creativity. My interest is in all mid century design and you will see this influence in my artwork. Some artists and designers who inspire me include Joan Miro, Rex Ray, Chris Reccardi, Lucienne Day, Jacqueline Groag and Marian Mahler. My passion is collage first and foremost. There is nothing so wonderful, and satisfying as designing my own printed, splatted, frottaged and paint effected papers and then cutting then into shapes and placing them on a new background to make a brand new vibrant composition.
Apart from all things Mid Century my other interests include; Antiques fairs, car boot sales, folk music, home decorating and knitting. I also play whistle, percussion, and dulcimer in a band, and I play for the local Morris Dancing team.
Beatrice Roberts joined Society6 on December 7, 2012.