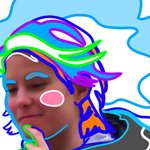 Bea Toa
△ △ △ Be Adventurous △ △ △ Bea Toa is a Graphic Artist & Art Director working in Brighton and beyond. Born in the south of France and raised with the sand and the ocean, nature has always been a core part of her life and not just a lifestyle choice. Having worked in places such as Paris, London, Geneva, Fribourg, Montreal and now based in Brighton, has influenced many aspects of the work on display and is now labelled the "CandySurf Style". A mix of a colourful beauty and a giant wave surfing with you. For over 15 years, Bea Toa has expressed her creative mind through multiple artistic medias, such as painting, graphic, logotype, identity, packaging, drawing, and many more… A list of clients that she has worked with previously include: L'Oreal Professional, Ralph Lauren, Laura Ashley, Jean-Paul Gaultier, Wella Professional, Champagne Lanson, Peugeot Citroen, Scott Sports. ▲ ▲ ▲ Bea Toa joined Society6 on June 30, 2014
More
△ △ △ Be Adventurous △ △ △
Bea Toa is a Graphic Artist & Art Director working in Brighton and beyond.
Born in the south of France and raised with the sand and the ocean, nature has always been a core part of her life and not just a lifestyle choice.
Having worked in places such as Paris, London, Geneva, Fribourg, Montreal and now based in Brighton, has influenced many aspects of the work on display and is now labelled the "CandySurf Style". A mix of a colourful beauty and a giant wave surfing with you.
For over 15 years, Bea Toa has expressed her creative mind through multiple artistic medias, such as painting, graphic, logotype, identity, packaging, drawing, and many more…
A list of clients that she has worked with previously include: L'Oreal Professional, Ralph Lauren, Laura Ashley, Jean-Paul Gaultier, Wella Professional, Champagne Lanson, Peugeot Citroen, Scott Sports.
▲ ▲ ▲
Bea Toa joined Society6 on June 30, 2014.