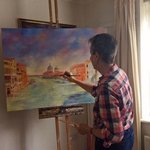 Beatrice Cloake
My work is made of emotions. I only paint what appeals to me and move my senses. Probably this is the reason why I feel the need to paint so many different subjects. You can find all about myself on my website: www.beatricecloakefineart.com Beatrice Cloake joined Society6 on May 10, 2012
More
My work is made of emotions. I only paint what appeals to me and move my senses. Probably this is the reason why I feel the need to paint so many different subjects.
You can find all about myself on my website: www.beatricecloakefineart.com
Beatrice Cloake joined Society6 on May 10, 2012.