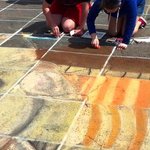 BECreates
We're a brother and sister duo with too many requests for artwork by friends and family (and a mom who doesn't like to share). We hope by uploading our work on society6, we'll appease our loved ones and maybe save some money for college. -- B and E BECreates joined Society6 on December 13, 2016
More
We're a brother and sister duo with too many requests for artwork by friends and family (and a mom who doesn't like to share).
We hope by uploading our work on society6, we'll appease our loved ones and maybe save some money for college.
-- B and E
BECreates joined Society6 on December 13, 2016.