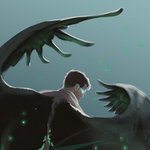 Beth B
Hello friends! Welcome to my prints store! Allow me to introduce myself, my name is Beth and I've been drawing for forever. I'm a huge fan of film and television and hope to work doing concept art or storyboards in that field someday. I also tend to express this love through fanart, and now I hope to be able to spread that same love to the masses as well. I'm still new to this website but keep checking back, as I plan to figure more things out and get more artwork up soon. Beth B joined Society6 on September 28, 2013
More
Hello friends! Welcome to my prints store! Allow me to introduce myself, my name is Beth and I've been drawing for forever. I'm a huge fan of film and television and hope to work doing concept art or storyboards in that field someday. I also tend to express this love through fanart, and now I hope to be able to spread that same love to the masses as well.
I'm still new to this website but keep checking back, as I plan to figure more things out and get more artwork up soon.
Beth B joined Society6 on September 28, 2013.
Beth B's Store
30 results
Filter