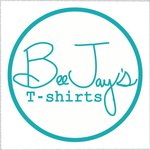 BeeJay's
Bee (Beth) and Jay (Jenny) are a couple of awesome gals who have teamed up to bring you their "offensively necessary" graphics skills. Borderline offensive, with just the right amount of subtly, BeeJay's hopes you enjoy their hand crafted designs. Follow us on Pinterest: http://www.pinterest.com/beejaystshirts and Tumblr: https://www.tumblr.com/blog/beejaystshirts and Facebook: https://www.facebook.com/beejaystshirts BeeJay's joined Society6 on April 29, 2014
More
Bee (Beth) and Jay (Jenny) are a couple of awesome gals who have teamed up to bring you their "offensively necessary" graphics skills. Borderline offensive, with just the right amount of subtly, BeeJay's hopes you enjoy their hand crafted designs.
Follow us on Pinterest: http://www.pinterest.com/beejaystshirts and Tumblr: https://www.tumblr.com/blog/beejaystshirts and Facebook: https://www.facebook.com/beejaystshirts
BeeJay's joined Society6 on April 29, 2014.