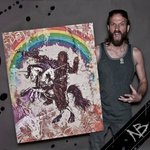 Beery Method
Nick Beery aka Beery Method brings experience from a vast array of creative disciplines including fine art, photography, illustration, and graphic design to a variety of clientele. He approaches every project with a high level of expertise in information artistry and resourcing as well as unique methodologies in producing iconic work that appeals to the pop and counter culture, urban collections, underground scenes and contemporary movement. A deep background with commercial & private label apparel, the action-sports industry, record labels, graphic novels & publishing, and various independent projects commissioned through a multitude of creative venues makes Beery's original imagery available in an array of media. Beery offers his skills as a freelance artist to a diversity of independent creatives. When not working on graphics, products, and creative marketing he resides in the studio painting and inking some of the most pop cultural imagery known nationally and abroad. His work runs the gamut from sexy female portraiture, surreal alien landscapes, to undead-zombies and hobo-eater character anthologies. www.BEERYMETHOD.com Beery Method joined Society6 on February 3, 2010
More
Nick Beery aka Beery Method brings experience from a vast array of creative disciplines including fine art, photography, illustration, and graphic design to a variety of clientele. He approaches every project with a high level of expertise in information artistry and resourcing as well as unique methodologies in producing iconic work that appeals to the pop and counter culture, urban collections, underground scenes and contemporary movement. A deep background with commercial & private label apparel, the action-sports industry, record labels, graphic novels & publishing, and various independent projects commissioned through a multitude of creative venues makes Beery's original imagery available in an array of media.
Beery offers his skills as a freelance artist to a diversity of independent creatives. When not working on graphics, products, and creative marketing he resides in the studio painting and inking some of the most pop cultural imagery known nationally and abroad. His work runs the gamut from sexy female portraiture, surreal alien landscapes, to undead-zombies and hobo-eater character anthologies.
www.BEERYMETHOD.com
Beery Method joined Society6 on February 3, 2010.
Framed Prints by Beery Method
257 results
Filter