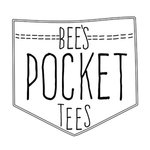 beespockettees
What's The Buzz? Sign up for our monthly newsletter, http://eepurl.com/bRNt7D, to receive exclusive special offers, new release information, and behind-the scenes looks into Bees Pocket Tees! Hey, Brooke here. My friends call me "Bee." My art you see here is my passion. I am a recent art graduate student from San Diego. My style is inspired by cartoons, animals, and Southern California culture. I design off-the-wall, eye-catching designs that inspire smiles, giggles, "shakas" and high-fives. Whether you're shopping for your 25 year-old surfer boyfriend, 13 year-old niece, or newborn baby, you will find a design for everyone in your life. All of my designs are hand-drawn by me. I also sell my art work on Etsy: https://www.etsy.com/shop/BeesPocketTees beespockettees joined Society6 on September 2, 2016
More
What's The Buzz? Sign up for our monthly newsletter, http://eepurl.com/bRNt7D, to receive exclusive special offers, new release information, and behind-the scenes looks into Bees Pocket Tees!
Hey, Brooke here. My friends call me "Bee." My art you see here is my passion. I am a recent art graduate student from San Diego. My style is inspired by cartoons, animals, and Southern California culture. I design off-the-wall, eye-catching designs that inspire smiles, giggles, "shakas" and high-fives. Whether you're shopping for your 25 year-old surfer boyfriend, 13 year-old niece, or newborn baby, you will find a design for everyone in your life.
All of my designs are hand-drawn by me. I also sell my art work on Etsy: https://www.etsy.com/shop/BeesPocketTees
beespockettees joined Society6 on September 2, 2016.