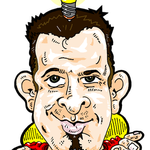 beetoons
Howdy! My name is J.D. Larabee: Cartoonist, Animator and all around lifetime "Doodler". I live in the funny-shaped state of CRAZY... err...um, I mean: Ohio. Since 1999 I have run BEETOONS, my cartooning business. I mostly draw cartoons at parties, store openings and the like. I also sell my prints at comic book shows all over the U.S.A. And now, you can get your hands on my art... And EVEN get it on a SHIRT! How sweet is that? Any suggestions, let me know... I can throw one of my toons up on the site and get it printed on just about anything you can imagine! beetoons joined Society6 on May 10, 2013
More
Howdy! My name is J.D. Larabee: Cartoonist, Animator and all around lifetime "Doodler". I live in the funny-shaped state of CRAZY... err...um, I mean: Ohio. Since 1999 I have run BEETOONS, my cartooning business. I mostly draw cartoons at parties, store openings and the like. I also sell my prints at comic book shows all over the U.S.A. And now, you can get your hands on my art... And EVEN get it on a SHIRT! How sweet is that?
Any suggestions, let me know... I can throw one of my toons up on the site and get it printed on just about anything you can imagine!
beetoons joined Society6 on May 10, 2013.