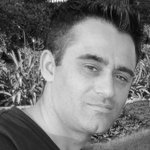 Behrooz Falsafi
Thank you for your interest in me and my artwork. My name is Behrooz Falsafi. I live with my loving wife and two happy dogs. I am an artist from California. I started my career as a professional artist very recently and I consider myself, a self-taught artist. I believe true talent comes not through schooling but through painting. I have a strong affection for abstract art, but I also enjoy impressionism. I use acrylic on canvas for most of my work. I am an Electrical Engineer but painting is my passion and I paint as much as I can during my free time. Each piece is produced using only the best quality paints, canvas and mediums. Every painting is a piece I would hang in my own home. My art is created for both exceptional craftsmanship and high-end materials. It creates mood and atmosphere in homes and offices. Thank you for learning more about me. I look forward to building a relationship with you! Behrooz Falsafi joined Society6 on December 6, 2013
More
Thank you for your interest in me and my artwork. My name is Behrooz Falsafi. I live with my loving wife and two happy dogs. I am an artist from California. I started my career as a professional artist very recently and I consider myself, a self-taught artist. I believe true talent comes not through schooling but through painting. I have a strong affection for abstract art, but I also enjoy impressionism. I use acrylic on canvas for most of my work. I am an Electrical Engineer but painting is my passion and I paint as much as I can during my free time. Each piece is produced using only the best quality paints, canvas and mediums. Every painting is a piece I would hang in my own home. My art is created for both exceptional craftsmanship and high-end materials. It creates mood and atmosphere in homes and offices.
Thank you for learning more about me. I look forward to building a relationship with you!
Behrooz Falsafi joined Society6 on December 6, 2013.
Framed Prints by Behrooz Falsafi
14 results
Filter
Products

Framed Art Prints