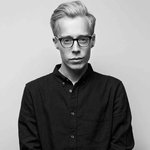 bendik johan
Bendik Johan is an award-winning photographer, a filmmaker and a sound engineer based in Oslo, Norway. In 2015, he graduated from a two year degree in Photography at Bilder Nordic School of Photography in Oslo. Bendik is available for local projects as well as potential employment opportunities. For any questions, use the form to inquire about rates and availability, or just to say hello. www.bendikjohan.com post@bendikjohan.com bendik johan joined Society6 on November 20, 2015
More
Bendik Johan is an award-winning photographer, a filmmaker and a sound engineer based in Oslo, Norway. In 2015, he graduated from a two year degree in Photography at Bilder Nordic School of Photography in Oslo.
Bendik is available for local projects as well as potential employment opportunities. For any questions, use the form to inquire about rates and availability, or just to say hello.
www.bendikjohan.com
post@bendikjohan.com
bendik johan joined Society6 on November 20, 2015.
bendik johan's Store
114 results
Filter