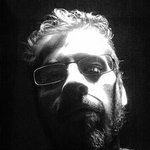 B-Zero
Hi! My name is Benjamin Bulidon. I'm a junior concept Artist who spends his time always painting, drawing, playing music and listening to it. I'm constantly looking for new experiences, inspiration and advice that can help me become a better artist. I currently am a full time employee as an illustrator in a studio which specializes in high quality architectural visualization. If you want more information about me (skills, resume, etc..), feel free to contact me on the following address. Thanks ! B. benjamin.bulidon@live.com B-Zero joined Society6 on December 26, 2013
More
Hi! My name is Benjamin Bulidon.
I'm a junior concept Artist who spends his time always painting, drawing, playing music and listening to it. I'm constantly looking for new experiences, inspiration and advice that can help me become a better artist.
I currently am a full time employee as an illustrator in a studio which specializes in high quality architectural visualization.
If you want more information about me (skills, resume, etc..), feel free to contact me on the following address.
Thanks !
B.
benjamin.bulidon@live.com
B-Zero joined Society6 on December 26, 2013.