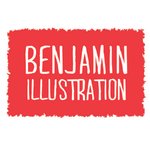 Benjamin
Im a freelance illustrator, image maker and stop motion animator. I love working with my hands, wearing check shirts and a sprinkling of sugar on top of my coffee. Keep up to date with me here: https://www.facebook.com/bggcreative @benjamincreativ benjaminillustration on instagram (I love to see all your photos) If you decide to buy anything please tweet me a picture of you and the product or tag me in the picture on instagram! Benjamin joined Society6 on October 24, 2014
More
Im a freelance illustrator, image maker and stop motion animator. I love working with my hands, wearing check shirts and a sprinkling of sugar on top of my coffee.
Keep up to date with me here: https://www.facebook.com/bggcreative @benjamincreativ benjaminillustration on instagram (I love to see all your photos)
If you decide to buy anything please tweet me a picture of you and the product or tag me in the picture on instagram!
Benjamin joined Society6 on October 24, 2014.