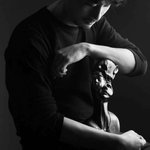 Benson Koo
Benson Koo is a Visual artist based in Hong Kong. His style is mixing Pop art, Digital art and ink painting. A young, fresh, local independent artist with years of experiences in the illustration and design field; has created a series of black and white printed work, playing with the contrast effect generated from the black and white, it reflects the different sides/faces of social issues, politics, events and public figures. The artworks brings the viewer to the point where they stand in the "grey" zone, where it a place where there is no right or wrong, hate or love and black or white. The artist choses with the same ideology of a black and white silent film, in which the main focus is on the story, and performance rather than the highly sophisticated costumes and makeup or the dialogues the actors recite. Art is like a mirror, it reflects its society and events that revolves ones life, and the each piece of work exhibited is a reflection of the artist mind and thought. http://blog.benson-koo.com/ Benson Koo joined Society6 on November 25, 2012
More
Benson Koo is a Visual artist based in Hong Kong. His style is mixing Pop art, Digital art and ink painting.
A young, fresh, local independent artist with years of experiences in the illustration and design field; has created a series of black and white printed work, playing with the contrast effect generated from the black and white, it reflects the different sides/faces of social issues, politics, events and public figures.
The artworks brings the viewer to the point where they stand in the "grey" zone, where it a place where there is no right or wrong, hate or love and black or white. The artist choses with the same ideology of a black and white silent film, in which the main focus is on the story, and performance rather than the highly sophisticated costumes and makeup or the dialogues the actors recite. Art is like a mirror, it reflects its society and events that revolves ones life, and the each piece of work exhibited is a reflection of the artist mind and thought.
http://blog.benson-koo.com/
Benson Koo joined Society6 on November 25, 2012.