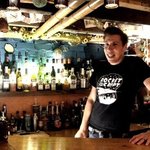 Ben Whittington
Thanks for stopping by my Society6 store, I'm a graphic designer based in Leeds, UK.
I work for a major greetings card publisher as a Creative Manager for both Humour and Disney Licensed Products (including Marvel) but I also love to create original work in the form of gig posters and art prints.
This gives me an outlet for my my own creations, pieces of illustration or design that are inspired by or for the benefit of the music scene which has been a big part of my life in Leeds as well as individual pieces inspired by traveling and nature.
When I'm not designing in one form or another you may find me playing trumpet with a either of my bands ( buzzkill.co.uk & theweddingcrashers.eu ) or concocting a new home brew recipe in my cellar ( realcraftybeer.tumblr.com )!
www.benwhittington.co.uk
@ben_whittington
Read more
Ben Whittington's Store
Filter