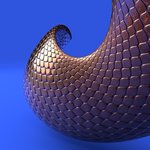 BERNO LANS
Ever since Berno was young, he has shown deep interest in creating things and demonstrated his natural creativity at an extremely early stage in his life. By the age of twelve, he was experimenting with many different types of artwork, including electronic music, photography, photo/video editing, and more. As time went on, Berno's areas of artistic interest were funneled into the art of 3D design - an environment were he could combine and use all elements of his creativity to create something truly unique. Berno finds the inspiration for his designs from nature, sounds, cultures, behaviors of animals, and almost everything in the world around him to aid him in creating something that completely changes your perspective on the world we live in. Instagram - @bernolans Email- lansberno@gmail.com BERNO LANS joined Society6 on November 28, 2016
More
Ever since Berno was young, he has shown deep interest in creating things and demonstrated his natural creativity at an extremely early stage in his life. By the age of twelve, he was experimenting with many different types of artwork, including electronic music, photography, photo/video editing, and more. As time went on, Berno's areas of artistic interest were funneled into the art of 3D design - an environment were he could combine and use all elements of his creativity to create something truly unique. Berno finds the inspiration for his designs from nature, sounds, cultures, behaviors of animals, and almost everything in the world around him to aid him in creating something that completely changes your perspective on the world we live in.
Instagram - @bernolans Email- lansberno@gmail.com
BERNO LANS joined Society6 on November 28, 2016.