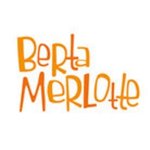 Berta Merlotte
Hi there! I'm a Spanish illustrator, graphic designer and a freaky stuff lover. I spend almost all my time thinking about new funny ideas. You can check out my site. Facebook-> https://www.facebook.com/bertamerlotte Instagram-> @bertamerlotte And hey! If you purchase any of my designs you can SEND A PHOTO to my facebook account. I'll be glad to show everybody your good taste XD. Thanks! Berta Merlotte joined Society6 on November 4, 2012
More
Hi there! I'm a Spanish illustrator, graphic designer and a freaky stuff lover. I spend almost all my time thinking about new funny ideas. You can check out my site.
Facebook-> https://www.facebook.com/bertamerlotte Instagram-> @bertamerlotte
And hey! If you purchase any of my designs you can SEND A PHOTO to my facebook account. I'll be glad to show everybody your good taste XD. Thanks!
Berta Merlotte joined Society6 on November 4, 2012.