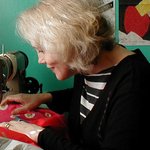 Bethan Ash
Bethan Ash is a textile artist living and working in Neath, South Wales. Her formal training was in fashion, where she specialised in shoe design, followed by a career in the clothing industry. She has been making art quilts professionally since 1980. Her dazzling art quilts have transformed a tradition-bound medium into one of bold improvisation, composition and technical innovation. Her masterful fabric cutting and piecing are completed without controlled grids or patterns – her creations emerge from a more improvisational approach, each presenting creative designs using hand-dyed fabrics of highly saturated colour. Her work is exhibited worldwide, and can be found in international private and public collections. Bethan has published books on art quilt making, has won international awards and has been employed to work with the public on Interactive quilt projects. She has been a supporting member of groups including include; Quilt Art and The Society of Designer Craftsmen. Bethan Ash joined Society6 on July 27, 2016
More
Bethan Ash is a textile artist living and working in Neath, South Wales. Her formal training was in fashion, where she specialised in shoe design, followed by a career in the clothing industry. She has been making art quilts professionally since 1980.
Her dazzling art quilts have transformed a tradition-bound medium into one of bold improvisation, composition and technical innovation. Her masterful fabric cutting and piecing are completed without controlled grids or patterns – her creations emerge from a more improvisational approach, each presenting creative designs using hand-dyed fabrics of highly saturated colour.
Her work is exhibited worldwide, and can be found in international private and public collections.
Bethan has published books on art quilt making, has won international awards and has been employed to work with the public on Interactive quilt projects.
She has been a supporting member of groups including include; Quilt Art and The Society of Designer Craftsmen.
Bethan Ash joined Society6 on July 27, 2016.
Bethan Ash's Store
24 results
Filter