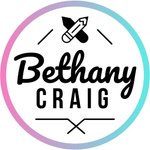 Bethany Craig
I've been drawing and creating as far back as I can remember. For the first 4 years of my artistic career I worked as a freelancer, so I have worn many hats. During my early freelance years I did an assortment of illustration related work for various businesses. I then moved on to doing character design, animation and background painting for a few mobile app games and small animation studios. During this time I also spent 2 years teaching a gesture drawing class as an adjunct professor at my Alma Mater. Most recently I have done graphic design, apparel-oriented graphic illustration, and online marketing for a custom apparel company. + Website: http://bethanycraig.com/ + Insta: https://www.instagram.com/bethanymcdoogle/ Bethany Craig joined Society6 on April 8, 2013
More
I've been drawing and creating as far back as I can remember.
For the first 4 years of my artistic career I worked as a freelancer, so I have worn many hats. During my early freelance years I did an assortment of illustration related work for various businesses. I then moved on to doing character design, animation and background painting for a few mobile app games and small animation studios. During this time I also spent 2 years teaching a gesture drawing class as an adjunct professor at my Alma Mater.
Most recently I have done graphic design, apparel-oriented graphic illustration, and online marketing for a custom apparel company.
Website: http://bethanycraig.com/
Insta: https://www.instagram.com/bethanymcdoogle/
Bethany Craig joined Society6 on April 8, 2013.