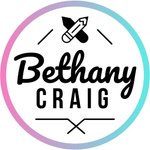 Bethany Craig
I've been drawing and creating as far back as I can remember. Being a creator has always been my thing, and I love every second of it. When I finished high school, I started down the path that would lead to me becoming the professional artist that I am today. I am an ambitious illustrator, designer, and animator living in the Midwest. My preferred mediums are digital, as well as traditional ink, gouache, pencil and paper. I'm very attracted to simple, yet bold minimalist aesthetics and I am also a huge fan of many pop culture shows, movies, and videogames. My many interests are what fuels my creativity, and I try to incorporate what inspires me into everything that I make. My work manifests in many forms, but commonly comes out as unique illustrations, patterns and prints, bold typography combined with pop culture references, or the occasional piece of fanart. I love using black and white, and muted earth tones in my work. Website: http://bethanycraig.com/ Tumblr: http://bethcraig.tumblr.com/ Insta: https://www.instagram.com/bethanymcdoogle/ Bethany Craig joined Society6 on April 8, 2013
More
I've been drawing and creating as far back as I can remember. Being a creator has always been my thing, and I love every second of it. When I finished high school, I started down the path that would lead to me becoming the professional artist that I am today.
I am an ambitious illustrator, designer, and animator living in the Midwest. My preferred mediums are digital, as well as traditional ink, gouache, pencil and paper. I'm very attracted to simple, yet bold minimalist aesthetics and I am also a huge fan of many pop culture shows, movies, and videogames. My many interests are what fuels my creativity, and I try to incorporate what inspires me into everything that I make.
My work manifests in many forms, but commonly comes out as unique illustrations, patterns and prints, bold typography combined with pop culture references, or the occasional piece of fanart. I love using black and white, and muted earth tones in my work.
Website: http://bethanycraig.com/
Tumblr: http://bethcraig.tumblr.com/ Insta: https://www.instagram.com/bethanymcdoogle/
Bethany Craig joined Society6 on April 8, 2013.