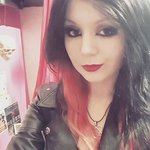 Beth Kennedy
21/UK based artist. I paint pet/animal portraits with the occasional dark and pokemon inspired artwork. I love to work with watercolours but also branch out into several different media and techniques. I do have commissions available so if you would like any work creating feel free to email me on : bethkennedyart@hotmail.com My etsy shop: https://www.etsy.com/uk/shop/BethKennedyArt Instagram: @bethkennedyart Deviantart: http://captainbeth.deviantart.com/ Beth Kennedy joined Society6 on August 5, 2014
More
21/UK based artist.
I paint pet/animal portraits with the occasional dark and pokemon inspired artwork.
I love to work with watercolours but also branch out into several different media and techniques.
I do have commissions available so if you would like any work creating feel free to email me on : bethkennedyart@hotmail.com
My etsy shop: https://www.etsy.com/uk/shop/BethKennedyArt
Instagram: @bethkennedyart
Deviantart: http://captainbeth.deviantart.com/
Beth Kennedy joined Society6 on August 5, 2014.
Beth Kennedy's Store
30 results
Filter