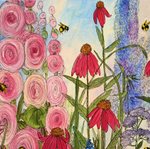 Between The Weeds
Laurie is a US-based nature botanical artist known for her detailed whimsical flower watercolors. Using only the finest quality materials her paintings murals and custom painted furniture are investment pieces that will bring nature home for decades to come. Where I am now with my creative process? I am studying to expand and enrich my art and designs with new techniques and processes. I am working with a technique using watercolor and gouaches on furniture. I am studying how to improve my paintings and adding new work to my portfolio. I am back living and working in my beloved Vermont driving down the many back roads discovering landscapes and wildflowers with my new buddy, a chocolate standard poodle named Jessie James. I have always been a creative person. I received my BA in Studio Arts, where I studied the fine art of printmaking painting and interior design. My very first love was and still is watercolor paintings. Andrew Wyeth's watercolors and Redoute's illustrations inspire my work. My work experience includes working closely with an interior designer at Sotheby's in NYC for restoration of painted chairs. My current obsessions include: garden flowers, dirt roads, Vermont, fairies, wooded landscapes, journal making and oil painting. Laurie Rohner Studio and my shop Between The Weeds combined forms my dream originally rooted in Vermont. It is how I view nature as I look between the weeds of life because beauty is found everywhere in nature. A weed is just as beautiful as a garden rose. Sometimes a wildflower is hidden in the blades of grass. I hope you enjoy my collection of work. I am grateful for the opportunity to share it with you! WEB SITES: http://laurierohnerstudio.com http://betweentheweeds.com Between The Weeds joined Society6 on May 16, 2014
More
Laurie is a US-based nature botanical artist known for her detailed whimsical flower watercolors. Using only the finest quality materials her paintings murals and custom painted furniture are investment pieces that will bring nature home for decades to come.
Where I am now with my creative process?
I am studying to expand and enrich my art and designs with new techniques and processes. I am working with a technique using watercolor and gouaches on furniture. I am studying how to improve my paintings and adding new work to my portfolio. I am back living and working in my beloved Vermont driving down the many back roads discovering landscapes and wildflowers with my new buddy, a chocolate standard poodle named Jessie James.
I have always been a creative person. I received my BA in Studio Arts, where I studied the fine art of printmaking painting and interior design. My very first love was and still is watercolor paintings. Andrew Wyeth's watercolors and Redoute's illustrations inspire my work. My work experience includes working closely with an interior designer at Sotheby's in NYC for restoration of painted chairs.
My current obsessions include: garden flowers, dirt roads, Vermont, fairies, wooded landscapes, journal making and oil painting.
Laurie Rohner Studio and my shop Between The Weeds combined forms my dream originally rooted in Vermont. It is how I view nature as I look between the weeds of life because beauty is found everywhere in nature. A weed is just as beautiful as a garden rose. Sometimes a wildflower is hidden in the blades of grass.
I hope you enjoy my collection of work. I am grateful for the opportunity to share it with you!
WEB SITES: http://laurierohnerstudio.com http://betweentheweeds.com
Between The Weeds joined Society6 on May 16, 2014.
Comforters by Between The Weeds
65 results
Filter
Department

Pillows & Bedding