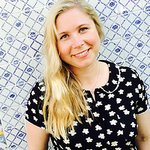 Food Photographer Bianca Brandon Cox
Bianca is a five time awarded photographer specializing in food and culinary trends. She also works as a prop stylist, film producer and graphic designer. For magazines, books and commercial companies Bianca creates photos and films of food, beverage, chefs and producers. Food Photographer Bianca Brandon Cox joined Society6 on May 12, 2016
More
Bianca is a five time awarded photographer specializing in food and culinary trends. She also works as a prop stylist, film producer and graphic designer.
For magazines, books and commercial companies Bianca creates photos and films of food, beverage, chefs and producers.
Food Photographer Bianca Brandon Cox joined Society6 on May 12, 2016.
Food Photographer Bianca Brandon Cox 's Store
28 results
Filter