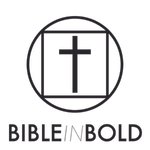 Bible In Bold
Hello there, welcome to Bible In Bold. We are a collective of artists and designers who want to make God's word know into all the world. There has been, and continues to be, a huge social media rise over the past few years of inspiring and motivating quotes being shared online and as christians we want to share what motivates us too - the word of God. Our flagship design is black and white with legible text. It is stark with no distractions. Simple and accessible just the way we feel the Bible should be. For those of you that like a little more colour in your life we'll make sure we've got you covered - we are designers afterall, surely someone around here can use the colour wheel, right? So hang them up in your home, office, church, tree hut, penthouse or cave where everyone can see them and start a conversation about God. Maybe give them as a gift. Or hang them next to your door as a daily reminder. Can't find your favourite scripture in our shop or social media? Send us an email and we'll have it made for sale (at no extra charge) and sharing within 24 hours. Please feel free to repost, reblog and share our quotes and images on social media and also check out our posters, art prints and canvases here on Society6, delivered to your doorstep. Thank you for shopping and may God bless you, Bible In Bold. Bible In Bold joined Society6 on May 4, 2016
More
Hello there, welcome to Bible In Bold.
We are a collective of artists and designers who want to make God's word know into all the world.
There has been, and continues to be, a huge social media rise over the past few years of inspiring and motivating quotes being shared online and as christians we want to share what motivates us too - the word of God.
Our flagship design is black and white with legible text. It is stark with no distractions. Simple and accessible just the way we feel the Bible should be. For those of you that like a little more colour in your life we'll make sure we've got you covered - we are designers afterall, surely someone around here can use the colour wheel, right?
So hang them up in your home, office, church, tree hut, penthouse or cave where everyone can see them and start a conversation about God. Maybe give them as a gift. Or hang them next to your door as a daily reminder.
Can't find your favourite scripture in our shop or social media? Send us an email and we'll have it made for sale (at no extra charge) and sharing within 24 hours.
Please feel free to repost, reblog and share our quotes and images on social media and also check out our posters, art prints and canvases here on Society6, delivered to your doorstep.
Thank you for shopping and may God bless you, Bible In Bold.
Bible In Bold joined Society6 on May 4, 2016.
Bible In Bold's Store
36 results
Filter