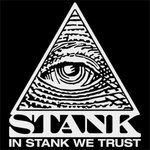 BiggStankDogg
When I'm not lumberjacking, I enjoy jazzercize and spoken word recitations. I also love walks on the beach as the majestic skies turn from azure blue to deep soothing tones of magenta and tangerine. On an expedition to mother Afrika, I discovered that the Wachutu were in fact biters.
Nowadays, I sit on my screen porch in my swinging chair drinking fresh squeezed lemonade. I pass the time whittling miniature versions of The Last Supper for local charities. I have many leatherbound books, and my house smells of rich mahogany…
See more of my stuff @ http://www.redbubble.com/people/biggstankdogg
Thanks!
Read more
BiggStankDogg's Store
Filter