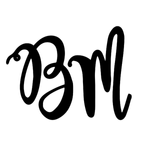 bigmomentsdesign
Hello, I am Mirka. As a graphic designer, illustrator and photographer I find joy and fulfillment in celebrating everyday moments. I find beauty in all these nice pretty colorful simple things around us. My work involves graphic vector design, seamless patterns, I am a big fan of Adobe Illustrator and iPad Pro lettering and Procreate application. https://bigmomentsdesign.wordpress.com/ https://www.instagram.com/bigmomentsdesign/ https://www.facebook.com/bigmomentsdesign bigmomentsdesign joined Society6 on May 25, 2017
More
Hello, I am Mirka. As a graphic designer, illustrator and photographer I find joy and fulfillment in celebrating everyday moments. I find beauty in all these nice pretty colorful simple things around us.
My work involves graphic vector design, seamless patterns, I am a big fan of Adobe Illustrator and iPad Pro lettering and Procreate application.
https://bigmomentsdesign.wordpress.com/ https://www.instagram.com/bigmomentsdesign/ https://www.facebook.com/bigmomentsdesign
bigmomentsdesign joined Society6 on May 25, 2017.