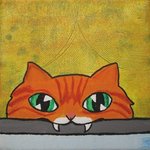 Sabine Steldinger
Hello and Welcome!
Find my webpage here: http://chromaphile-sabine.blogspot.gr/
Sabine Steldinger used painting already as a kid to escape reality. Growing up in the times of the fall of the Berlin wall, living right in the center of everything, life became very difficult for the 5 head family. When there wasn't much money for all the colorful glitter plastic things the west cramped in the shop shelves, it was at least possible for the family to provide house, food, books and colors to paint to their children. Small Sabine made a fast progress in daily practising drawing and painting, also being supported in primary school by an art teacher, who acknowledged her talent to draw realistic portraits at the age of 10 by copying all her drawings and showing them around in his lessons.
Except drawing portraits, she liked painting large format surrealistic landscapes with acrylic colors on cardboard, since canvas would be too expensive. Growing older, she finished school with Abitur and continued travelling all over Europe and also in Brasil to follow an inner urge to find a way to live, that would not harm the nature and other people. She didn't believe in formal education in closed University environments that seemed alienated to her. She wanted to experience life, the world and people. Learning while travelling.
She eventually settled in Berlin again and started to attend a private school for natural medicine, finding a profession that she felt, would combine nature and human needs in a useful way. Through dealing with nature, herbs, medicine, understanding the human body and its psychology, she slowly found back to her artistic roots. These roots were deeply buried from her restless and hectic lifestyle of almost a decade. She slowly started again, overcoming the fear of a white paper, not knowing how to start, waiting for an inspiration to just pop up in the mind. This inspiration arose in form of a cat. Having grown up with cats, she learned their language and was always fascinated by them. Her paintings show typical cat behaviour in a minimalist comic style. Cats sabotaging work and specifically computers by sleeping on them. To present her naughty cats to the public she started a blog called "Sabotage Kitten".
After falling in love with a Greek man, they decided to move to his Greek village to live there together. This turned out a lot more difficult than expected, cause the man suddenly fell seriously ill and was left disabled, but is luckily slowly recovering. The young couple had to face many scaring months and years trying to built up a new life under the circumstances of a global crisis and particularly the Greek crisis.
Right here, when the situation became slowly better, she rediscovered the healing properties of painting, and whenever she had some time left before or after work, she would sit and learn painting techniques and drawing down her ideas. Her husband and her successfully built up a recording and mastering studio, full of vintage equipment, doing an effort of making things professional and artistic, warm and inviting (www.magneticfidelity.com). They would start a record label with handmade covers, made by Sabine and handmade records, cut by Jesus (the husband) to form a whole unique artwork, combining music and visual arts. As Jesus as also exceptional skills in designing and building analog electric circuits for audio equipment, they started a small company manufacturing handmade unique parts of electronic music equipment (www.magnetovolt.com), with the help from a Friend, Spiros. He was an art student at the local University and is creating the amazing artworks for the audio pieces. Sabine embarked into selling her painting online, since the local market was still paralysed after months of capital control in this country. She would continue her "Sabotage Kitten" series with new comic paintings showing cats boycotting work while improving using new techniques to create backgrounds and structures with acrylic colors.
She loves the wide world of abstract forms and structures, so you will also find some examples of that work in the shop.
Snailhouses did inspire her to fuse natural shapes with her own creativity. She did some dotting art on them, some marble structures, making them look like little decorative jewels.
Read more
Sabine Steldinger's Store
83 results
Filter