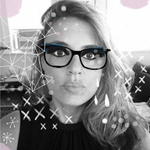 Binny Talib
Binny is a Sydney based illustrator who loves to create wallpaper, branding, childrens books, editorial, packaging and anything else she can draw all over.
Binny's creations have secured licensing deals across major Australian and International brands, her own wallpaper collection, children's toys, fashion lines, interior design, textiles, childrens books, album covers and greeting cards.
Binny's illustration career has flowed on from a design background as an agency Art Director and Creative Director, she has an honours degree in Visual Communications.
Binny's most recent books are "The Ladybird Big Book of Dead Things", Laybdird Penguin UK, "Two Sides' Published by Little Tiger Press. "Hark its me Ruby Lee and "Origami Heart". Published by Hachette.
Binny was honoured to have been short listed for the Prime Ministers Literary award and receive an Honour from the Children's Book Council for her book with Lisa Shananhan, "Hark its me Ruby Lee."
Binny was really happy to be part of the amazing recent compilation "Shout out to the girls" Published by Penguin.
Binny recently returned from living in awesome Hong Kong where she completed her children's book Origami Heart, exhibited works, illustrated at live VIP events, helped design work on Tim Burtons' Halloween Party and concepted the Polar Resort Christmas Installation concept for the famous IFC Hong Kong mall. Binny now works happily on beautiful Sydney harbour with other lovely creative folks drinking copious amounts of dandelion tea and is inspired by Jasper her rescue cat. 2020 3 x 3 Illustration Awards New York, Merit, The Ladybird Big book of death
2020 Alligators Mouth Awards UK, Short listed, Two Sides
2019 3 x 3 Illustration Awards New York, Merit, The Letter Writer
2018 Prime Ministers Literary Awards, Short listed, Hark! It's me Ruby Lee!
2018 3 x 3 Illustration Awards New York, Textile design, Honorable Mention
2018 "Hark its me Ruby Lee" Shortlisted Childrens Book Council Australia
2017 3 x 3 Illustration Awards New York, Merit
2016 3 x 3 Illustration Awards New York, Honorable Mention
2015 Illustrator Australia Awards 2015, Silver + Highly Commended
2015 3 x 3 Illustration Awards New York, Merit + Honorable Mention x 2
2014 3 x 3 Illustration Awards New York, Honorable Mention, Illustrator Aust Award
2012 3 x 3 Illustration Awards New York, JUDGE, Illustrator Australia Awards - Gold - 2 x Highly commended
2011 3 x 3 Illustration Awards New York, Silver + 3 Places
2010 Illustrator Australia Awards, Silver
2009 Image Quest - Place
www.binny.com.au
Read more
Binny Talib's Store
Filter